Written By Pablo Ordóñez Bravo
On an early Brooklyn day in January 1972, Congresswoman Shirley Chisholm took the podium on the stage as the crowds clapped. Chisholm smiled, waved back, and began speaking into the assortment of microphones before her. "I stand before you as a candidate for the Democratic nomination for the Presidency of the United States of America."1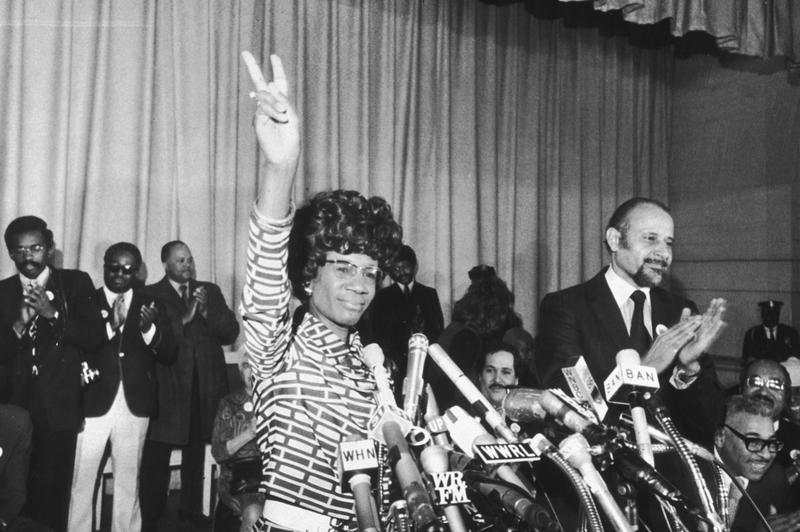 It wouldn't be surprising if you had never heard of Shirley Chisholm and her 1972 presidential campaign. After all, she's not often talked about in history textbooks and as you probably have guessed by now, she didn't win the 1972 presidential election. But her campaign was historic nonetheless, and was an important influence on the political world that we live in today. With her campaign, Shirley Chisholm became the first Black American and woman to run for a major party's nomination for president of the United States. Before Jesse Jackson, Geraldine Ferraro, Hillary Clinton, and Barack Obama, there was Shirley Chisholm.
How did a Black woman have the opportunity to run a national presidential campaign in 1972? After all, it had only been eight years since the passage of the Civil Rights Act and only four since the assassination of Dr. Martin Luther King, Jr. The answer lies in the Civil Rights Movement and the broader Black Liberation Struggle that informed Shirley Chisholm's decisions as a politician and organizer throughout her astonishing political career.
The daughter of Caribbean immigrants, Chisholm was born on November 30, 1924 in Brooklyn, New York. Raised in Barbados by her strict grandmother, Shirley grew up during the island's struggle for independence against British colonial rule and took a sense of righteousness with her when she moved back to Brooklyn. In Brooklyn, she met a great variety of Latinos, Jews, Italians, Caribbeans, and African Americans from all walks of life that made up her community. As she got involved in Brooklyn's local politics, she was caught in a lot of social and political turmoil that "schooled her in the early Black struggles of the 1940's and 1950's."2
Inspired by the wave of activism from the Civil Rights Movement, Shirley sought to make the most impact in her community to support marginalized peoples. Though many people at the time believed that mobilizing Black people and creating nonviolent civil disobedience was the best vehicle for change, others remained convinced that electoral activism was just as important. Shirley was deeply invested in organizing and movements, but she ultimately believed it was best to pursue her own activism in politics as a vessel to make social change happen.
In that vein, Shirley Chisholm's political identity was greatly influenced by radical Black and feminist thinkers. She admired Malcolm X's emphasis on Black empowerment, read The Feminine Mystique, and often reconsidered her place as a Black woman in politics and activism. As she progressed in the New York State Assembly, Shirley Chisholm often found herself at the intersections between her identities as a Black person, a woman, an organizer, and an elected official.3
Those identities, not surprisingly, were often in conflict with each other. Many of the movements and beliefs that she identified with were skeptical government and were uncomfortable with woman in power. Shirley often experienced racism from her government colleagues and sexism from the people in movements she associated with. Her priorities, however, never changed: she never backed away from championing marginalized peoples, and throughout her career, continued to advocate for antiwar, civil rights, women's, and poor people's issues.
Shirley Chisholm entered the United States Congress in 1969 as the first Black woman elected for federal office. Representing Brooklyn, she took her previous experiences and political thoughts as she began to identify her unique role as a Black feminist in government and developed her own ideology. She attempted to negotiate different identities and political actors while at the same time focusing on practical approaches to legislate and help people. She summed up her philosophy in her autobiography: "I used to be a moderate … Today I'm a militant … I agree with what many of the extremist groups are saying—except that their tactics are wrong and too often they have no program."4 Shirley Chisholm believed in the radical politics of hope, but was certain that the best path to pursue it was with strong tactics and an established program.
As she spent more time in the Congress, however, Shirley felt increasingly frustrated by party politics.5 Though Republicans saw her as a natural opponent (she was on President Richard Nixon's list of enemies), Democrats didn't create a space for her to develop a political agenda. Fed up, she decided that she was "unbought and unbossed" and did the boldest thing that she would do in her entire life: run to become the Democratic nominee for president of the United States.
Shirley's campaign was a way for her to express disapproval for party politics that had held her back and to envision a world in which "people could imagine themselves as legitimate stakeholders in an imperfect American democracy."6 On that early Brooklyn day in January 1972, when Shirley Chisholm announces her campaign, she sets an intersectional tone for building coalitions. Though she acknowledged that she was "Black and proud" and "equally proud" of being a woman, she wanted to be "the candidate of the people of America."7 Her message was about conciliation and unity—she repeated that "a house divided cannot stand," referred to Americans as "all God's children," and stressed the importance of building a road "to national unity and a new America."8
Shirley's 1972 presidential campaign was the culmination of how she negotiated the Black Freedom Struggle with the politics of hope and change throughout her career. She reconciled "seemingly contradictory philosophies of racial, ethnic, and feminist pride with humanist and universalist ideals."9 Her desire for equality for all suggested that there was a common thread between Americans from all walks of life. This thread Shirley identified is still important today: her call for creating common ground and thinking about what unites us has for nearly fifty years set the stage for the radical politics of possibility.
Years later, much after she ended her campaign and she left the Congress, an interviewer sought out Shirley Chisholm. The interviewer asked her how she wanted to be remembered. She answered, "I want history to remember me not as the first black woman to have made a bid for the presidency of the United States, but as a black woman who lived in the 20th century and who dared to be herself." She finished, "I want to be remembered as a catalyst for change in America."10 And indeed she was.
Notes  
1Shirley Chisholm. "Shirley Chisholm Brooklyn Announcement."1Shirley Chisholm Brooklyn Announcement. January 25, 1972. Accessed March 23, 2017. http://www.4president.org/speeches/shirleychisholm1972announcement.htm.
2Barbara Winslow. "Shirley Chisholm: Catalyst for Change." Booklist, December 1, 2013. Literature Resource Center. Accessed March 23, 2017. http://go.galegroup.com.ccl.idm.oclc.org/ps/i.do?p=LitRC&sw=w&u=claremont_main&v=2.1&it=r&id=GALE%7CA353751661&asid=e336945b91ee6872afc81744f871a01e.
3Anastasia Curwood. Black feminism on capitol hill: Shirley chisholm and movement politics, 1968-1984. 2015. Meridians, 13(1), 204-232. Retrieved from http://ccl.idm.oclc.org/login?url=http://search.proquest.com/docview/1765993349?accountid=10141.
4Shirley Chisholm. Unbought and unbossed. 1970.
5Jeanne Theoharis and Komozi Woodward. 2009. Want to Start a Revolution? : Radical Women in the Black Freedom Struggle (1), Chapter 11: Shirley Chisholm's Radical Politics of Possibility. New York, US: NYU Press. Accessed March 23, 2017. ProQuest ebrary.
6Theoharis and Woodard.
7Chisholm. "Shirley Chisholm Brooklyn Announcement."
8ibid.
9Tammy L. Brown. "A New Era in American Politics": Shirley chisholm and the discourse of identity. 2008. Callaloo, 31(4), 1013-1025,1371. Retrieved from http://ccl.idm.oclc.org/login?url=http://search.proquest.com/docview/233172227?accountid=10141.
10Jackson Landers. "When Shirley Chisholm Ran for President, Few Would Say 'I'm With Her'".  2016. Smithsonian Magazine. Retrieved from http://www.smithsonianmag.com/smithsonian-institution/when-shirley-chisholm-ran-for-president-few-would-say-im-with-her-180958699/#tbdzVdwTvbUwZgxC.99.